How to bring natural features into your living space with split face cladding
Stone tiles and split face cladding are much-desired home décor options. They give character, add depth and texture to internal and outdoor projects, and provide colour differentiation.
The popularity of split face wall tiles is in the elegant yet natural-looking finish they bring – whatever room or space you are decorating.
Not familiar with split face tiles? Now is your chance to find out why split face cladding demands a second look…
What are split face tiles?
Split face tiles are narrow strips of natural stone or another material (like porcelain) that are cut to different widths, thicknesses and heights. These strips of tile are then arranged to create a multi-levelled, staggered surface that is rich in texture.
Where can you use split face cladding?
Stone tiles and split face cladding are commonly used for interior or exterior wall tiles. They can be used to create striking feature walls, bring texture and depth as bathroom and kitchen tiles, or be used as a trendy feature around fireplaces, TVs or in hallways.
Various restaurants and boutique shops also vouch for the stunning aesthetic effect split face cladding provides.
Modern living with split face cladding and The Tile Shed
At The Tile Shed, we feature a beautiful selection of natural stone and porcelain split face cladding. The rough surface of these stone tiles is a striking way to add style, texture and character to any room of your choice.
Split face cladding works particularly well as kitchen tiles, feature walls in living spaces and adds instant luxury to any bathroom. They are a contemporary style statement that speaks loud and clear!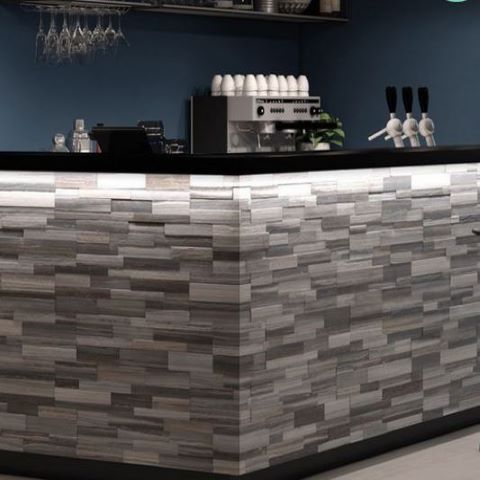 Porcelain split face cladding
Our porcelain split face cladding features multi-coloured, grey, beige and white tiles. All our porcelain split face tiles meet 1st Quality CE CN 14411 quality requirements.
Cubics Splitface 15x60cm tiles 
Available in beige, grey or multicolour
Matt finish
Material: porcelain
Suitable for indoor or outdoor use
Excellent for bathrooms or kitchens but also suitable for other living spaces.
Palissandro 3D Stone 15x61cm tiles 
Available in grey, white and multicolour
Matt finish
Material: porcelain
Perfect as wall tiles, kitchen tiles and in bathrooms.
Available in grey
Matt finish
Material: porcelain
Ideal wall tiles for bathrooms and kitchens.
Natural stone tiles
Oyster Splitface 10x36cm tiles
Available in cream with a matt finish
Made of natural stone
Great as bathroom wall tiles and kitchen tiles.
Cloud Grey Mix Splitface 10x36cm tiles
Available in grey with a matt finish
Natural stone tile
Uses: wall tiles, kitchen tiles, bathroom tiles
For eye-catching designs and to add an extra dimension to your interior décor, split face cladding is the perfect solution. See our range of alluring stone tiles and split face cladding for your next home project!
If you need free expert advice, don't hesitate to give us a call on 0191 249 4571.