Outdoor tiles that will instantly upgrade your garden
The last few years have meant that the sanctuary of our garden has more than ever become a place to find rest and relaxation. Many are hence investing in their outdoor spaces, turning their gardens into havens that reflect their style.
Outdoor tiles, and specifically outdoor porcelain tiles, are gaining in popularity with the desire to create breath-taking outdoor spaces. Outdoor floor tiles are an excellent way to transform and enhance the aesthetic you are wanting to achieve for your garden. As outdoor patio tiles create a stunning visual while being practical, they are ideal for updating your garden.
Let us show you how.
The benefits of outdoor porcelain tiles
Outdoor porcelain tiles are a popular choice for a reason. They offer a wide selection of paving options and deliver a truly authentic look and feel – one that was previously only achievable with natural stone. And there's more.
Porcelain paving slabs are completely non-porous – they require very little maintenance as they can cope with a variety of weather conditions.
Outdoor porcelain tiles are hard-wearing – they will look brand new for longer.
Porcelain outdoor patio tiles are scratch and stain-resistant – ideal for high footfall areas as well as dining areas with garden furniture.
Porcelain tiles are manufactured to exact sizes (rectified) – this allows them to be configured in a range of modern patterns as well as for them to be laid with thin joints.
Inspiring style trends with outdoor tiles
At The Tile Shed, we feature a large selection of outdoor floor tiles to suit your needs and taste. Our outdoor porcelain tiles will help you transform your garden into a space of your own.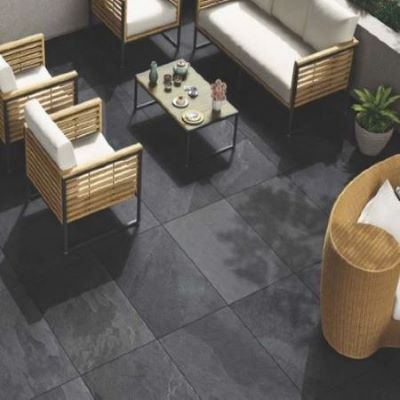 Here are our five top tips on how to create stylish outdoor spaces:
1.
Bring the indoors outside

Indoor-outdoor tiles are a hugely popular trend in 2021. They are a way to connect the interior to your exterior living space by creating a cohesive space. Matching your indoor tiles to your outdoor tiles will cause the interiors to flow and continue to the outside in a stylish, seamless way.

Stone Quartz Beige porcelain tiles are an effortless way to bring connectivity and continuity.
2.
Stepping stones

Create a path with stepping stones for added wow-factor in your garden. They are an easy way to achieve a modern or rustic look depending on the choice of outdoor tile you go for. The spaces between the tiles can be filled up with anything from pebbles and gravel to grass.

For a natural, rustic look consider these wood-effect Verona Lodge Natural porcelain tiles.
3.
Indulgent, contemporary outdoor living spaces

Embrace your dark side with black or dark outdoor tiles for a striking contemporary look. Darker outdoor floor tiles, like the Brazilian Slate Black tile blend with bright, sunny spaces to give you an inviting outdoor living area. Match the outdoor tiles with green potted plants, spotlights, and painted wood panelling.
4.
Sleek exteriors

Make your garden the envy of your neighbours with sleek outdoor patio tiles. Go for outdoor porcelain tiles that have a sophisticated, top-quality finish. Large tiles and tiles with a natural stone appearance or a veined effect create a look that exudes glamour and great taste.

Check out these Limestone Beige outdoor floor tiles for chic exterior spaces!
5.
Patterned, textured and bold

Get creative with your outdoor paving tiles. Bold, patterned tiles make a stunning style statement. Textured tiles not only add dimension but are practical as they provide a little grip for snowy and wet days.

See these Cobblestone Bruno Arc porcelain tiles for timeless, charming outdoor spaces.

The best outdoor porcelain tiles for your garden

Here at The Tile Shed, we work hard to bring you the latest designs at affordable prices. We have a wide range of outdoor porcelain tiles that will help you design the perfect outdoor space for you. Shop our range of outdoor tiles today!