Shop a wide variety of tiles perfect for wet rooms
Have you ever longed for a luxurious, spa-like showering experience in your home?
You're certainly not the only one.
Wet rooms are the latest must-have in bathroom trends and a sure-fire way of adding wow-factor and style to your bathroom design.
Join The Tile Shed as we look at some trending wet room ideas and suitable wet room tiles.
What is a wet room?
A wet room is a 100% watertight bathroom where the floors and walls have been sealed with a waterproof membrane.
A typical wet room has a fully tiled, walk-in shower area that is level with the rest of the floor, taking away the need for a shower tray. The floor of the shower area is sloped towards a drain to flush out the water.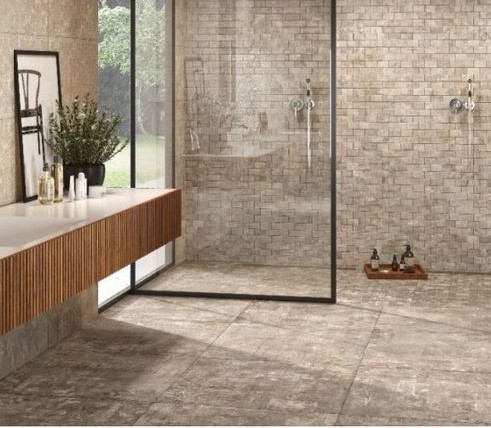 What are the benefits of a wet room?
The rising popularity of wet rooms is due to their practicality and vast design opportunities.
From a practical perspective, wet rooms are excellent for those with mobility issues. Without the need for a shower tray, a walk-in shower guarantees easy access.
Wet rooms are also easier to clean. With the removal of a bath and a shower tray, there is simply less to clean. As wet rooms are waterproof and fully tiled, it also eliminates damp spots. This makes cleaning more straightforward and hygienic!
Since wet rooms have become one of the hottest bathroom trends, wet rooms can increase the value of your home. Having a waterproof wet room makes your house less vulnerable to leaks and water damage as the moisture is contained within the wet room.
From a style perspective, a wet room offers a variety of design opportunities. Without a bath or a shower enclosure, you are left with more space to let your imagination run riot with stylish wet room ideas like strategic lighting or feature walls. There are also plenty of ways to add elegance with your choice of wet room tiles.
Which are the best tiles for wet rooms?
When choosing the best wet room tiles you will need to think about the construction of the tile, its durability, thickness, and slip rating.
The most recommended wet room tiles are porcelain, natural stone and mosaic tiles. As ceramic tiles are more porous than porcelain tiles, they are not recommended for bathroom floors. Ceramic tiles are, however, suitable for wet room walls.
As for tile thickness, it is recommended that wet room tiles are at least 6mm in depth. 10mm wet room tiles are optimal as they can withstand high traffic while contributing to better results with an adhesive.
Due to the obvious wet conditions, choose tiles with a good slip rating. The anti-slip ratings range from R9 to R13, with R13 having the highest level of slip resistance. R13 tiles are usually used in professional settings.
Wet room tiles for contemporary wet room ideas
Wet rooms have the potential to add real luxury to your home.
Simplistic yet sleek floor-to-ceiling tiles, mosaic or hex tile, feature walls, and patterned tiles bring splendour and personality to your wet room. If you are looking for texture, split face cladding is your go-to wall tile.
On-trend, marble-effect tiles bring in subtle patterns without overwhelming the space. Large-format tiles are better for cleanliness and practicality – fewer grout lines mean easier cleaning! For a striking look, combine darker wet room tiles (see Dazzle Anthracite tiles with white bathroom products. As a tip, to make your wet rooms even more practical, go for wall-mounted bathroom ceramics!
Whether your style is minimalist or opulent, or you are designing a family wet room full of light, The Tile Shed has a beautiful collection of bathroom tiles. Have a look at our Murales bathroom tiles for timeless tiles to get you started!
We also stock a selection of bathroom products and grouts and adhesives to complete your wet room project.
Comments (0)
No comments at this moment