Cook in style with our tiles - perfect for a country-style kitchen
When it comes to home interiors, the first room where our dreams start to come alive is usually in the kitchen. This is due to the kitchen being the heart of many homes across the globe. It is where we spend the most time, where families and friends come together to celebrate birthdays, Christmases and midnight snacks alike. So when it comes to the initial brainstorming of interior styles, at The Tile Shed, we understand it is a highly important decision to make.
Interior design ideas for a homely kitchen environment
Popular design styles for kitchen and dining spaces are often more minimalist, featuring natural elements and providing opportunities for personalisation. Over-styling a kitchen may lead to outdated trends and time-worn surfaces that no longer have the wow factor that they once did. For this reason, it is a great idea to choose a style which can outstand the test of time and the multitude of cooking and cleaning in one room over time. 
Why we love farmhouse kitchens
Farmhouse kitchens and country style homes usually feature three idyllic design elements to help create a cohesive theme;
Natural materials
Light and airy colour scheme
Rustic accessories
We love this interior design concept because it can easily be achieved on a low budget!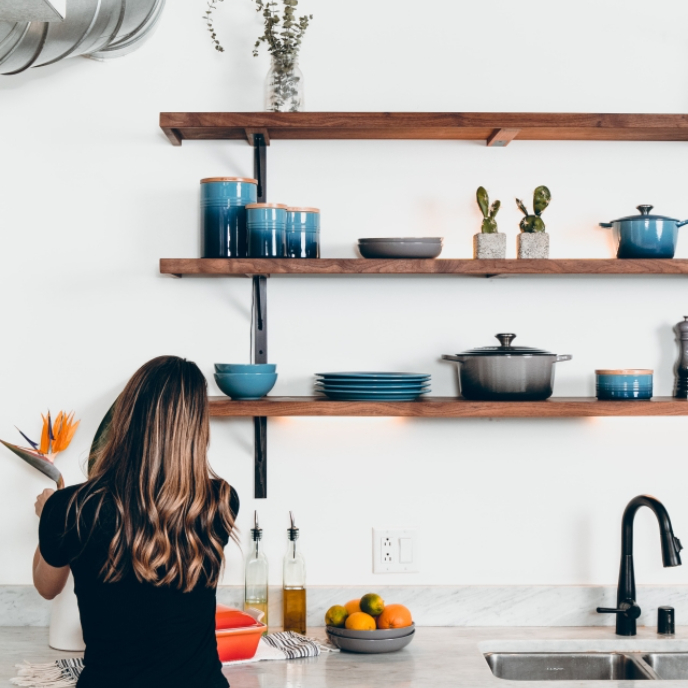 Firstly, start by considering the overall layout of the kitchen. How can you maximise socialisation and create a welcoming and homely environment? Kitchen islands are a great focal point of any farmhouse kitchen, they also allow space for storing pots and pans with incorporated drawer units.
Next, think about the colours and textures that you want to add to your new country style kitchen. Light coloured walls with hints of wood and natural colours work to embody this interior design trend. Our Country Range features an ideal variety of colours and styles to help you achieve your farmhouse goals.
The Country Mist Green 6.5x20cm ceramic tiles are country chic with a modern edge! This glossy finish and light green tone work to create the perfect splashback for any country home. 
If you are looking for a more neutral coloured tile, the Country Gris Claro 6.5x20cm will help to tie in all-natural materials of your new farmhouse kitchen, by depicting neutral colours of the wood grain within this set of ceramic tiles.
To add a modern touch to your kitchen, why not try out Country Blanco 6.5 x 20cm metro tiles? These quality tiles create a clean surface and space for personalisation!
The final step is accessorising! Rustic accessories such as reclaimed warm wood shelving units, copper pans, gingham tea-towels and house plants are top of the list when it comes to farmhouse finishing touches. Get creative and don't be too restrictive when it comes to this interior style. Remember to keep in mind 'home is where the heart is' and you will be instinctively guided to the kitchen of your dreams!