Step into statement homes with great hallway ideas
Decorating the hallway is often last on our list of home interior design jobs. But it shouldn't be.
First impressions matter when it comes to our homes too.
The Tile Shed is here to give you some stylish hallway ideas on how to wow your visitors with enviable floor tiles.
Statement tiles for an unforgettable style statement
Hallways tend to be narrow, practical, and somewhat awkward spaces, which is why we often neglect them when it comes to home interiors.
What we forget is that they also set the tone and reflect the style of the rest of the house.
Floor tiles are a brilliant yet easy way to turn your hallways from ordinary to extraordinary. They can add drama, make your hallways appear larger and inject exquisite style to your home. Best of all, using floor tiles in hallways is practical. They are enduring, easy to clean and ideal for high traffic areas.
The best hallway ideas for a lasting first impression
The Tile Shed has gathered some of our favourite hallway ideas using both statement tiles and more neutral floor tiles.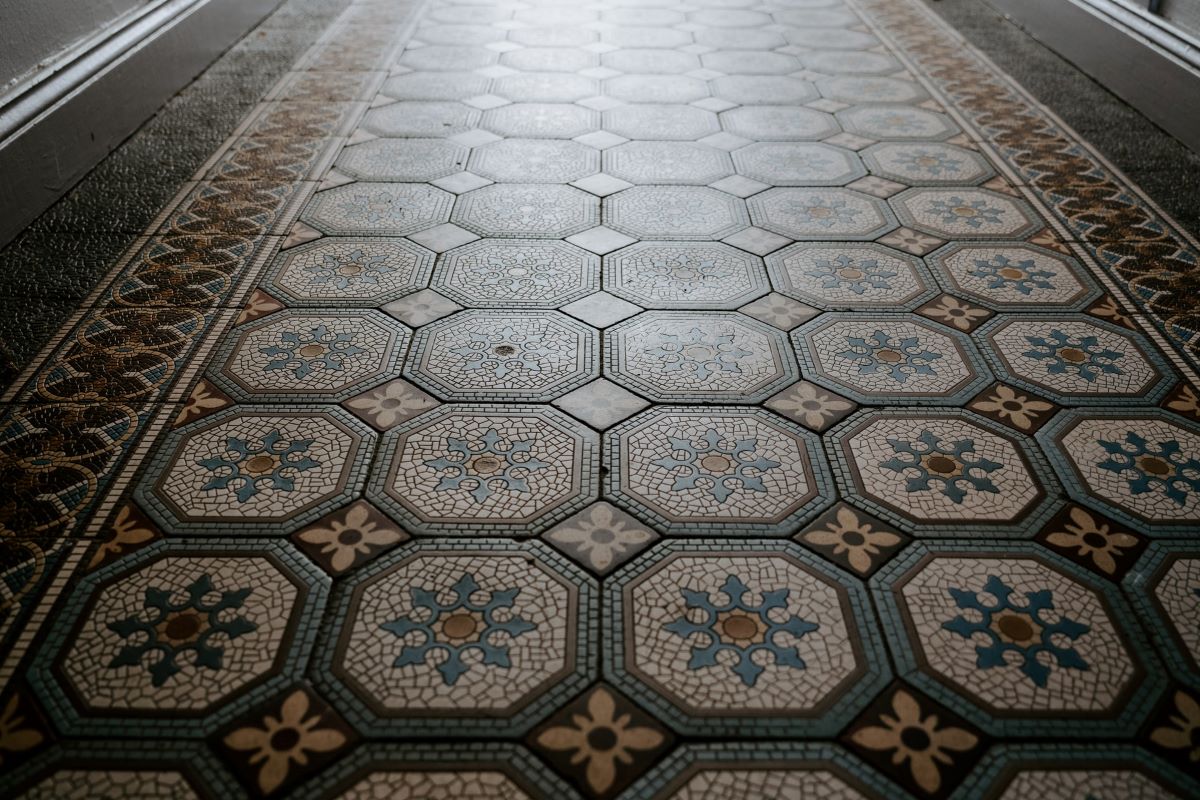 1.
Herringbone flooring - A narrow hallway's best friend

As much as we'd love to have spacious hallways, it is rarely the case in modern homes in the UK. Nevertheless, there are ways to make smaller hallways appear more spacious.

Create a herringbone pattern with floor tiles to draw the eye through the space. The pattern will give the illusion of an elongated space, making your hallways seem longer.
2.
Make a statement with monochrome floor tiles

Talk about hallway ideas easy to fall in love with! Monochrome floor tiles, like these Devonstone porcelain tiles, create a classic look that is not only memorable but effective in turning smaller hallways into spaces that ooze elegance and class. The contrast between black and white patterns will give your hallways a striking effect.

Keep the rest of the hallway décor simplistic so as not to make the flooring feel too busy.
3.
Go bold with statement tiles

The hallway is the perfect place to go bold. After all, you will just be passing through! Also, hallways tend to be sparse with other decorative items, giving your flooring the centre stage.

Play with geometric designs, bold patterns, and vibrant colours. For utterly unique and eclectic style, go for Moroccan inspired tiles. (https://www.thetileshed.co.uk/wall-tiles/451-delph-multi-matt-20x20cm.html)
4.
Marble floor tiles – an oldie but a goodie

Marble may be a classic choice in hallways, but it need not be outdated. Marble effect tiles (https://www.thetileshed.co.uk/search?s=marble+effect) add texture, elegance and light to both traditional and contemporary homes.

For a modern take, consider hexagonal marble floor tiles or cut marble effect tiles into fractured geometric patterns for a stylish, chic hallway.
5.
Oversized hallway tiles

Vibrant colours or bold patterns aren't the only ways to make a statement with tiles.

Use oversized tiles to create patterns for a cool and contemporary effect. Mix natural colours like creams, browns, and whites for a warmer monochrome effect.
6.
Welcome guests with a striking optical illusion

Hallway ideas that boggle the mind? Flex your creative muscle and create the illusion of a tile rug! Rather than worry about mud prints on your new hallway rug, design a tile rug for your entryway instead.

The options are endless - use patterned tiles, mosaic tiles or any floor tile of your choice to create a tile rug by arranging the tiles in a special pattern. The perfect way to let your personality shine!
Floor tiles to bring your hallway ideas to life
Whether you have your heart set on statement tiles or classic floor tiles, The Tile Shed has the tiles to make your hallways stand out from the crowd.
Browse our stylish floor tiles to create beautiful hallways for a lasting first impression!